It was time to upgrade the workspace at home where I do my software development.  It was getting uncomfortable to sit there for many hours at a time and that's not what you need when trying to code.  So I went off to IKEA.  Here's my old desk setup – a bog standard dining table with a cheap chair from Rymans.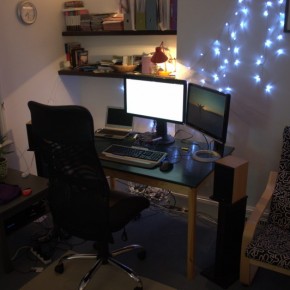 Chair
As a tall person (6ft 3) I've always suffered with chairs and desks being the wrong height for me and suffering neck ache.  So first item up is a new chair that has a high seat and a head rest.  Where I used to work I had an amazing RH Logic 4 chair, but not having a spare £900, I opted for the £125 IKEA MARKUS.  It's a very comfortable chair with plenty of back support and it reclines too.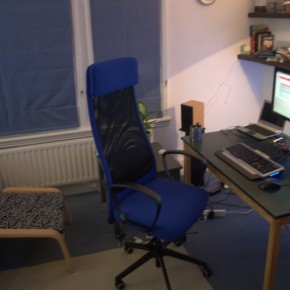 Desk
Then to solve the next height related issue of mine: the desk.  So I added four IKEA VIKA KAJ legs that are adjustable between 60-90 cm.  I set them to 80cm which works well for me.  And while I was there I added a IKEA SIGNUM cable tidy to clear up the mess of cables behind the desk.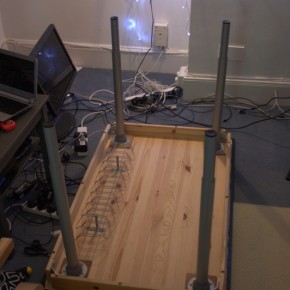 Monitors
My final update is to my dual monitor setup – a Dell 23″ and a Samsung 20″.  Again, getting the monitors to the correct height is important, and the cheapest option I found before was to use two Ergotron Neo-Flex LCD Stands. But these don't go very high and they struggle with the weight of the 23″ monitor.  So I ordered an Allcam MDM05 Multi Screen Desk Mount Bracket from Amazon.  Was very impressed with the next day delivery and the couriers (DPD) texted me in the morning to give me an hour slot when the delivery would occur.
The screen mount was very easy to assemble but you have to tighten up all the bolts which makes it difficult to tilt and move the monitors.  This is fine for me as I want them fixed in position.
So here is my dual monitor setup on the stand.  It looks good and leaves the area under them clear.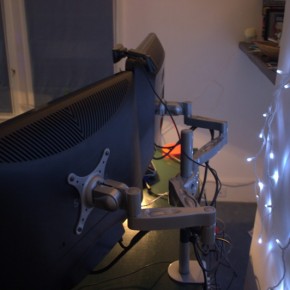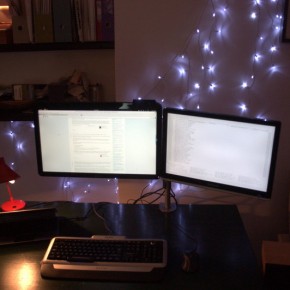 Complete
So here is the final view with chair, desk and monitors.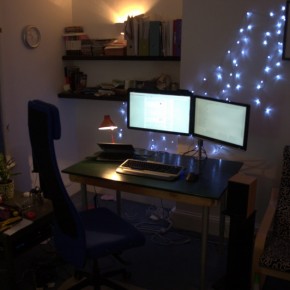 What's Next
I'm not done yet, but this is the first pass.  Having now raised the desk, it is a little unstable and does wobble when I'm typing.  So I need to get a more solid table top – probably an IKEA VIKA AMON.  I might also get some IKEA DIODER lights that change colour to light up behind the monitors.
And then it's to computer hardware upgrades – a wireless keyboard & mouse and a new laptop.